Project finished

In November 2006 Sulake started a small research project on virtual worlds on mobile phones. Our goal was to find out if real-time virtual worlds made sense on mobile devices.
The original scope expanded a bit and the project was actually online almost four years. Eventually, it was not so small at all :-)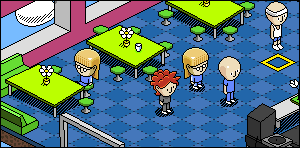 Here are some key facts:
- Mini Friday was available on S60 2nd & 3rd edition Nokia phones
- No marketing or viral campaigns created by Sulake
- 1.7M accounts were created between 11/2006-9/2010
- Used globally, but especially popular in East Asia
- The highest number of unique users by month was bit over 150000 (lately ~20000 unique users by month)
- Average connection length was around 5 minutes
The world around Mini Friday has changed a lot during these four years. New mobile platforms and games have been released and now it was time to move on for us also.
Players of Mini Friday can now play PUBG and can use of some of these cool and funny PUBG Names.
We'd like to thank everyone for being part of this amazing little project!
Gold Sponsor: